A Dynamic Duo!
As the Seattle area has grown and matured over the past 20 years, cabinetry for the home has kept pace. While "custom cabinets" used to mean they were built by a smaller company, capable of building unusual sizes, today it means being able to provide and install products in many wood species, in hundreds of door styles, and literally thousands of finishes. It means understanding and providing the unbelievable array of architectural components to properly present the design. Each project is unique and has its own challenges from the proper marriage of materials to a skillful solution and artful application. The trick is being able to determining what the Client's needs are as well as presenting options the Client has never thought of. Clint and Kimberly and KC Fine Cabinetry have all this under one roof. With their 40 years combined experience and unlimited styles, colors and materials at their disposal, this is truly what "custom cabinets" means today.
Now Clint and Kimberly have joined forces to present a truly dynamic duo. With the marriage of each Designer and their unique skill set along with the fact that they are actually married to one another makes Kitchen Companions a force in the Seattle area. When you work with Clint and Kimberly you truly get two for the price of one.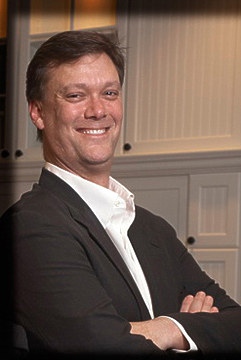 Clint Noyes
Owner and Designer
What began as a job for Clint in 1987, designing kitchens in a locally owned Home Center, has become a way of life. Through the first few of his 24 years in the industry Clint designed simple, problem solving kitchens.
Becoming a Certified Kitchen Designer in 1995, he took his game to a new level. The scope of Clint's work has since expanded to include cabinetry in some of the most beautiful, complex homes in the Puget Sound area. He has designed cabinetry for virtually every room in the home: kitchens, of course, but also vanities for elegant bathrooms, bookshelves for dens, and window seats for bedrooms.
The work isn't just work for Clint; as a "Kitchen Junkie" with a serious habit, he spends weekends cooking for family and friends, and making wine recognized with Gold, Silver, and Bronze medals in local amateur winemaking contests. It gives him a deep understanding of what works and what doesn't; he doesn't just talk the talk, he walks the walk.
Since 2002, Clint's role in the Kitchen business has been expanded to include managing the design studios he worked with. The experience gained through his involvement in all aspects of the process make this latest chapter, founding Kitchen Companions and KC Fine Cabinetry a natural phase of his evolution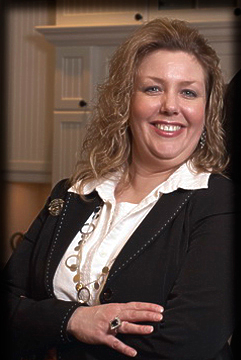 Kimberly Noyes
OWNER AND DESIGNER
Kimberly is a rare person in the Puget Sound region; an actual native of the area. Having grown up in Bellevue, she graduated with a 3 year degree in Interior Design from Bellevue Community College. After spending several years in the commercial furniture industry, she began her career in designing kitchens with a Bellevue firm in 1993. Kimberly has raised the bar from the very start. Only 3 years into her career she became a Certified Kitchen Designer.
Two years later, in 1997, she designed the Best Kitchen, Street of Dreams. Projects designed by Kimberly have been published in Northwest Living Magazine, Better Homes and GardensBuilding Ideas. While these are great achievements, they are no surprise. She loves good design. The excitement in interior design doesn't always come from working on the biggest, most expensive projects. Often, the joy comes from providing a simple solution to a stubborn problem, or building a beautiful kitchen on a tight budget. Kimberly understands that successful design isn't just about creativity and the mechanics of design, although both are important; it's about listening to your clients, understanding what is important to them, and incorporating it into a project they will love. As Co-Founder of Kitchen Companions and KC Fine Cabinetry, Kimberly looks forward to putting these skills to use.